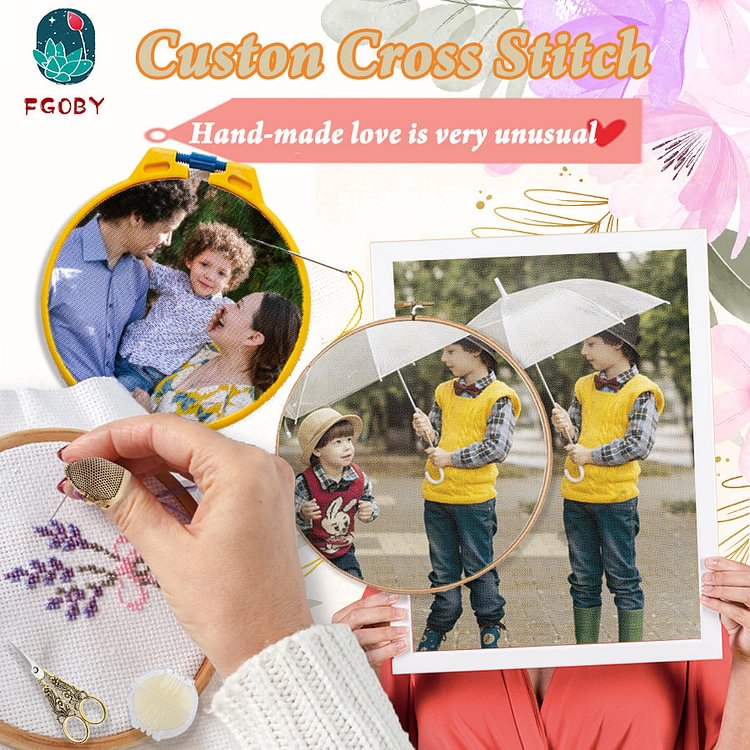 Turn your photos into cross-stitch patterns - Simply upload your photo
Custom paintings need to wait about 20 days to send

Pick The Canvas That Best Fits Your Photo. 
11CT Stamped

| | |
| --- | --- |
| Canvas Size/cm | Print Size/cm |
| 36*46 | 30*40 |
| 46*46 | 40*40 |
| 46*56 | 40*50 |
| 46*61 | 40*55 |
| 56*56 | 50*50 |
| 36*66 | 30*60 |
| 46*66 | 40*60 |
| 56*66 | 50*60 |
| 66*66 | 60*60 |
| 46*76 | 40*70 |
| 56*76 | 50*70 |
| 66*76 | 60*70 |
| 76*76 | 70*70 |
| 56*96 | 50*90 |
| 66*96 | 60*90 |
| 76*96 | 70*90 |
| 66*126 | 60*120 |
| 86*126 | 80*120 |
| 106*106 | 100*100 |
IF YOU DON'T KNOW WHAT SIZE IS SUITABLE SIZE, YOU CAN CONTACT US VIA MESSENGER
If your photo is square(Like These Type), then it is suitable for custom 30x30cm/40x40cm/50x50cm......
NOTE:
Do not change the quantity in your cart! Only submit one photo per custom painting. If you would like to order more, please repeat the process and create a separate order.

If you select a canvas size that is incompatible with your photo, we may crop your photo to fit.
Package Content:
1 X Embroidered Cloth
2 X Embroidery Needle
1 X Embroidery Thread Set
1 X Manual